This free white paper covers:
1. How workplace has evolved and the impact on storage
2. The new employee expectation of workplace facilities
3. How storage can be managed in the dynamic workplace
4. The business case for smart locker systems
5. The future trends in this space
Including best practice case studies from EY, Qualcomm, Deloitte and Microsoft.

Dynamic working is growing in popularity globally
Workplaces all over the world are changing from a fixed workplace set-up to one which is more flexible and dynamic. Frontrunner organizations stepped in early, mastered the playing field, and we can learn from their best practice.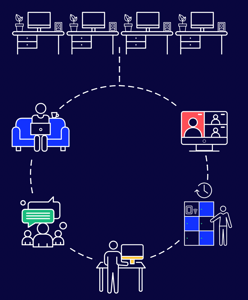 The evolution of the workplace brings an evolution in storage
Dynamic office design accommodates different spaces for different work activities. Employees are enabled to move across zones, floors and types of workspace according to the type of work or personal preferences. This movement requires personal storage to be flexible too, and available on-demand across all areas of the office.